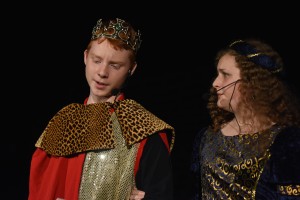 HRCA recognizes that God has gifted students in a variety of ways, including abilities in athletics, drama, music, academic study, as well as in other areas. We seek to provide feasible opportunities for these students to develop and demonstrate their God-given interests and talents.
HRCA's extracurricular activities serve to augment and support the school's educational goals. These activities can play a vital role in a student's education by teaching them the value of self-discipline, commitment, teamwork, self control, setting and achieving goals, perseverance, fellowship, loyalty, and cooperation.
We believe that an extracurricular activities program also enhances the atmosphere of the HRCA student body, providing students and parents with an opportunity to fellowship more together and express a positive school spirit.
We expect, and will insist upon, Christ-like character and behavior in all athletes, spectators, and coaches. All fans and athletes alike are expected to limit words and actions at sporting events to those that are uplifting, encouraging, and always positive. (Ephesians 4:29-32). We expect every HRCA person in attendance to be a representative of Christ, regardless of what the scoreboard says or how our opponents may conduct themselves.
Relationship to Academics
Extracurricular activities will not take priority over the academic program. Students on academic probation (grades 7 and up) may not participate in extracurricular activities except those that may aid in improving a student's academic status, i.e., homework club/study hall. (Refer to Academic Probation.)
Extracurricular Activities
Extracurricular activities are announced before the school year. These currently include homework club/study hall, string orchestra, LEGO League, sports clubs, and drama.
The Archers' team sports include our co-ed cross country team, boys' soccer team, and boys' basketball team.  A schedule of games and meets is provided at the start of the school year, subject to changes based upon weather.
Please refer to program details regarding signups, schedules, coordinators, and payment of fees.